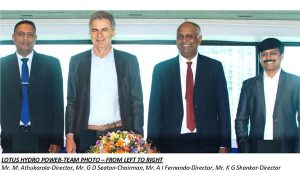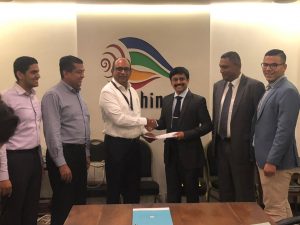 ~ Strategic Investor G&G has mega plans despite overall risk laden market prognosis
Lotus Renewable Energy Group announced the acquisition of the Hatton Plantations (HPL), a public quoted Company, in a 1 billion stock market deal recently via a crossing on the Colombo Stock Exchange. Lotus will acquire the HPL assets, it's top pool of talent, and continue its practice of volume and effective management practices, along with crop rotation and management of timber assets. The business will operate under the Lotus brand.
Lotus, which provides intelligent renewable energy solutions, are strong on collaborations, that keeps the organization connected. Its rich heritage in renewable energy solutions combined with long-standing partnerships will further strengthen with this acquisition, which branches in to the crop processing area, while strengthening its renewables capability.  Hatton Plantations is a group company of CSE listed Sunshine Holdings (SUN), and Lotus is the Sri Lankan subsidiary of G&G, Singapore.
'We have long admired HPL as a world renowned and highly respected Tea Company that is by some distance the market-leader in its field. HPL will be an excellent strategic fit within the G&G Group as we invest to capture the very significant opportunities provided by the Tea Industry.' Gary Seaton, its Chairman said.
'We have been doing these types of acquisitions despite the volatility in the agricultural sector, and despite the disappointing overall risk laden market prognosis, due to the Easter Sunday Attacks. G&G specializes in unblocking underutilized companies and their potential, which is why we made this acquisition despite the current risk perceptions,' said Gowri Shankar, a Director at Lotus, who said one goal is to 'support Sri Lanka at the time of need.'
Lotus previously acquired Lotus Hydro Power (formerly Browns) and Zyrex Power, in a rapid expansions spree within just three years.
Indrajith Fernando, a Finance Professional with over 30 years experience  in the plantations value chain and Director Lotus Hydro, commented," Strategic investor G&G and Lotus has great potential, and mega investment plans.  The need for flexibility and commitment for good governance during challenging times stressed by investors to the authorities and regulators at the recently concluded highly successful "Singapore Investor Forum" could be the boost in realizing these benefits ".
"This investment also marks our strong commitment to Sri Lanka and the competitive advantage provided by the deep pool of talent in Sri Lanka," said Menaka Athukorala, Director of Lotus Renewable Energy (Pvt) Ltd.
"Lotus's acquisition of Hatton Plantations is another in a series of potential major investments in Sri Lanka. It's a growth opportunity for Lotus through an extended operational boost combining both Lotus's and HP's strengths. G&G the parent Company of Lotus, has cast its net wide, with interests in Strategic sectors renewable energy and sustainable agriculture," Fernando a said.
Lotus is G&G's local subsidiary. Since inception, Lotus's business and service orientation has evolved to meet the unique demands of the dynamic and maturing renewables market. Lotus operates across India, Sri Lanka, Singapore and Australia. In Australia the Company operates under the name Sunmania (Pvt.) Ltd.
'G&G believes the two companies have vision and innovation to attract and develop top talent. There are commonalities that would combine to capture future opportunities,' Shankar added.
HPL, with 14 estates and 11 factories is one of Sri Lanka's frontline tea producing companies, with plantations in 7,206 hectares of arable land, at elevations reaching 4,800 feet above sea level. 8-9 million kilograms of tea are produced per annum in its factories, and the company employs upwards of 7000 workers.
More information about the renewables solutions Lotus offers can be found at the company website: http://lotusreenergy.com/about.html